Home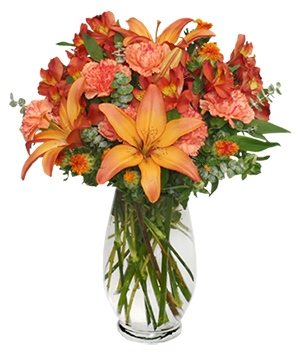 WARM CINNAMON SPICE
Floral Arrangement
Add a dash of autumn to any room with this striking bouquet! Filled with gorgeous orange carnations, dark orange alstroemeria, orange Asiatic lilies, and more, Warm Cinnamon Spice is a delightful seasonal mix. Send some spice to your loved ones today!
Standard: Half the size and less flowers
Deluxe: As Shown** (unless otherwise specified)
Premium: More flowers, greenery, and fuller. Can include an upgraded vase.
**We strive to duplicate every arrangement to match exactly like the picture shown. Sometimes, we are not able to do so due to flower availabilty and fluctuating costs of hardware/goods. We always will come as close as possible to the size and fullness of the pictures as we understand the frustration it may cause. We are sorry for any inconvenience.